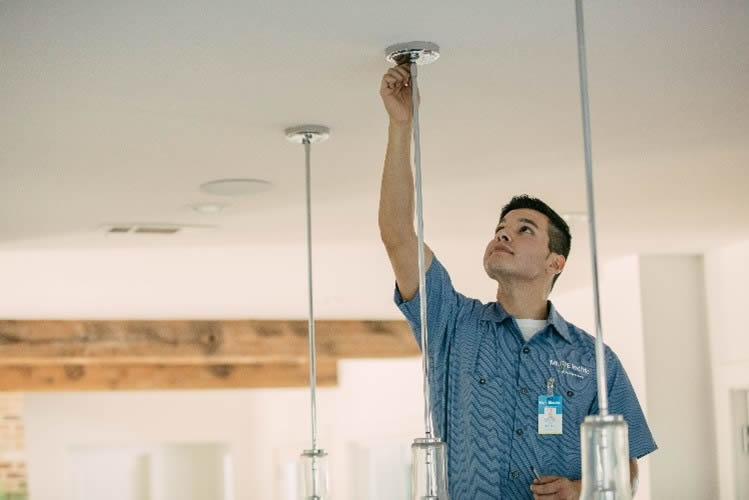 We Are Proud to Provide Flat Rate Prices Upfront
Customers are understandably frustrated when they receive an invoice for an electrical service that is much different and way higher than they were initially estimated. At Mr. Electric, we completely understand your frustration.
As a local electrician in North Richland Hills, we are committed to customer satisfaction and looking out for our community's best interest. When you call Mr. Electric to schedule an electrical service or electrical repair in North Richland Hills, you can be sure that you will receive flat rate prices upfront! Plus, we vow to never charge overtime fees. At Mr. Electric, we take full responsibility for our work and know that it is up to us to finish the work ON TIME. For electrical service without the shocking fees, call Mr. Electric.
North Richland Hills Electricians
Hire an Electrician That Is Licensed and Certified
We don't have to tell you that electricity can cause injury and damage. We hear about electrocutions and house fires that result from poor, amateur electrical work all the time. It is deeply saddening to know that homeowners who experience property damage from an amateur electrician's mistake may even have their home insurance claim rejected. Many home insurance policies do not cover damage from electric work by handymen.
Don't expose yourself to thousands of dollars in liabilities. Hire a licensed and certified electrician from Mr. Electric and sleep with peace of mind. In addition to the home insurance company, we have you covered as well. When you schedule an electrical service with Mr. Electric, you can rest assured knowing all of our workmanship and parts are guaranteed. Don't settle for decent. Call the professionals at Mr. Electric for exceptional service from the experts.
We Have You Covered with 24-Hour Emergency Services
We have unfortunately witnessed all sorts of electrical emergencies and one thing we know is for sure: Electrical emergencies happen, and disaster can strike at any moment. Electricity is an unpredictable element, but Mr. Electric is by your side. Our North Richland Hills electricians are available 24 hours a day, 7 days a week. Give Mr. Electric a call today, tonight, or anytime and witness what reliable electrical service is like.
Schedule Reliable Electrical Services Today
We are happy to say that we provide electrical service in all areas of North Richland Hills. As a local company, we take it upon ourselves to provide quick response times. This is why we have invested in state-of-the-art technology and GPS equipment that helps us achieve this goal. When you call Mr. Electric, you will speak to a friendly staff member who will dispatch the electrician that is nearest to you. Don't wait, call now!
Reviews for North Richland Hills, TX

Overall Experience:

5
/5 -
Electrician North Richland Hills
Angela Cain
Very professional, prompt, and thorough. Mr. Electric has a great work coordination system, too, keeping you abreast of arrival and including a picture of the person who will be coming to your door. Nice touch. Jake was our electrician. Very knowledgeable and personable. Don't know how they compare in price to others...maybe a little costly for some. We didn't have time to compare pricing but the overall experience was worth it for us.