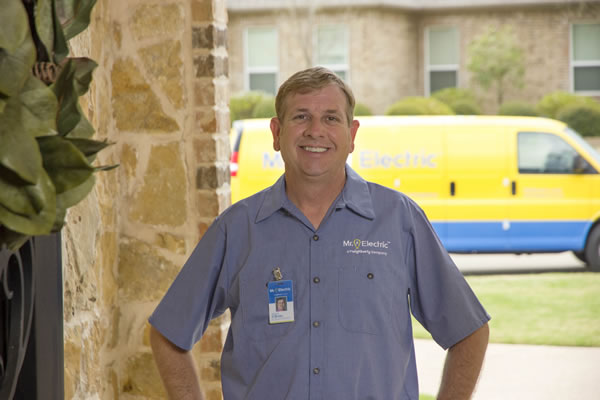 Save Money by Choosing Mr. Electric
Nothing is more frustrating than being nickel and dimed when all you want is simple electrical service or electrical repair in Haslet. Customers are right to be angry when they are surprised with overtime charges and extra fees hours after an initial price was quoted. At Mr. Electric, we have eliminated inconceivable practices such as those. When you call Mr. Electric for an electrical repair or electrical service in Haslet, you will receive flat rate pricing UPFRONT and we promise to NEVER charge overtime fees.
We understand that we are the experts and, accordingly, we take full responsibility for our work. Our electricians are licensed and certified, meaning they have demonstrated their understanding of electrical systems. We have so much confidence in our Haslet electricians that all of our workmanship and parts are guaranteed. That's right! If you have any questions, worries, or concerns about the service we provided, then give us a call as soon as possible. Our friendly staff is looking forward to helping you solve any all issues you may have.
Your Time Is Valuable to Us
We all have busy schedules. From going to work to drop off the kids at school and practice to grabbing groceries to running errands, we have limited time to deal with surprise electrical issues. Don't despair! Mr. Electric values your time. We have invested time and money into sophisticated technology to minimize your wait time. Our state-of-the-art technology and GPS equipment are designed to schedule you with our nearest electrician in Haslet. Give us a call today and explain your situation. Our courteous staff will help you schedule an appointment that best fits your schedule.
Mr. Electric Is Available Around the Clock
Electricity can be an unpredictable element. Power can go off at any time of the night and electrical issues can arise at any time of the day. You should not be forced to wait until business hours to have your home back in a livable condition. This is why Mr. Electric has an electrician available at any and every hour of the day. We offer lighting Installation, ceiling fan replacement, electrical panel replacement, generator installation, and electrical outlet replacement in Haslet, TX area. As a local electrical company, we are committed to providing for our community. Our 24-hour emergency service is one way of looking out for our community in Haslet. No matter the time of day, you can be sure that a staff member is ready to pick up your call and assign an electrician to your premises as soon as possible.
Reviews for Haslet, TX

Overall Experience:

5
/5 -
Electrician Haslet
Bob Walker
I had several electrical items that needed to be repaired or replaced and the gentlemen sent by Mr. Electric did a great job in a short time. All is working like it should now. I would suggest them to my friends.