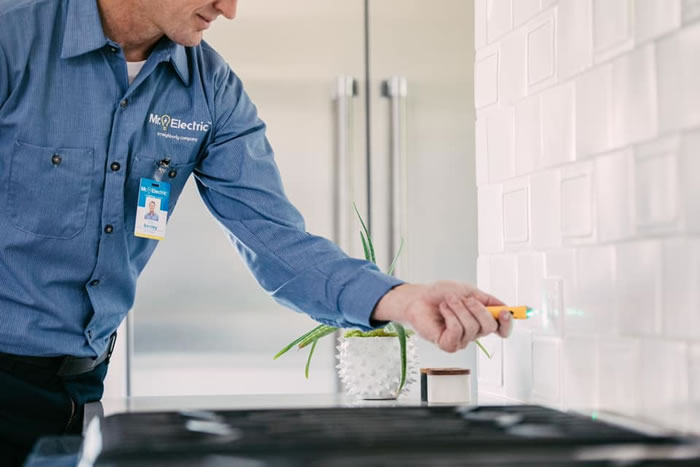 Electrical Safety Will Protect Your Property and Family
Electricity is an extremely volatile and dangerous element responsible for over 4,000 injuries and fatalities each year among U.S. workers alone. As the sixth leading cause of workplace deaths, electrocution is a risk to be taken seriously. Mr. Electric is here to make sure your home or business is electrically safe. Our certified and licensed electricians are trained to identify and fix common electrical hazards. If you are ready to hire an electrician in HEB, call Mr. Electric today. Some of our electrical services includes:
Child-proofing outlets
Replacing circuit breakers
Installing dedicated circuits
Updating electrical codes
Performing electrical safety inspections
Installing or replacing GFCI outlets
Implementing home surge protection
Renewing old wiring
Renew Your Electrical System with These Installations
Technology is progressing at a rapid rate, meaning newer and better equipment is coming out each and every year. New equipment is generally more user-friendly, energy-efficient, and safe. If you own an old home or have old electrical equipment, consider upgrading to reduce the risk of electrical fires and damage while saving money in the long term. Our electrical service in HEB includes a large variety of installations such as:
Carbon Monoxide & Smoke Detectors
Residential and Commercial Generators
Exhaust Fans and Ceiling Fans
EVSE Chargers
Solar Energy Systems
Power Conditions
Leave It to The Experts
Many people like to save a few bucks by calling a handyman or, worse, by trying to fix electrical issues by themselves but they forget about the risks. Electrical damage and injury are very real. Protect yourself and your property by hiring an expert. At Mr. Electric, we hire and train only the best HEB electricians. With state-of-the-art equipment and licensed electricians, Mr. Electric is proud to be the electrician that thousands have trusted over the years.
You Always Have Access to Electrical Service with 24-Hour Emergency Service
Electricity works around the clock and a problem can arise at any given moment. When you need electrical service in HEB, don't waste your time web searching for an electrician only to go through a list and listen to voicemail. Call the professionals at Mr. Electric to have an electrician in HEB help you at any time of the day – or night! As a local company in HEB, we take pride in serving our community with electrical repair, electrical panel replacement, circuit breaker repair, ceiling fan replacement, and all other electrical service at all hours. Don't wait, call now!