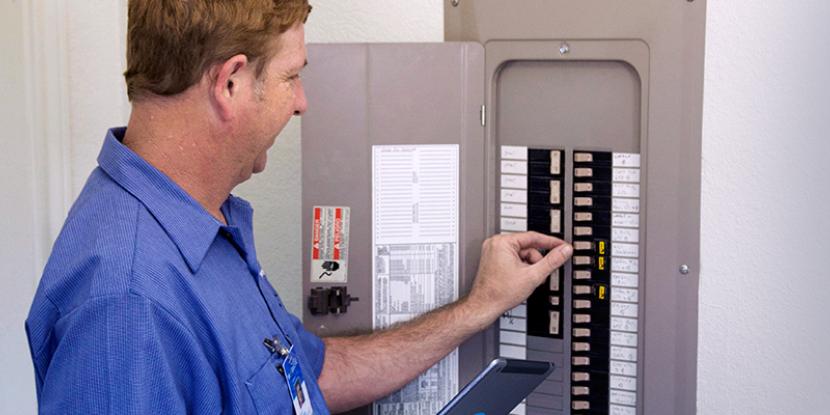 Why Invest in an Arlington Electrical Inspection?
Damaged wiring, broken outlets and other common electrical issues can put your property at risk. Not only can these unresolved problems cause personal injury, they can also increase your chances of sparking an electrical fire or damaging expensive appliances, devices and equipment. A qualified electrician in Arlington has the extensive training and specialized tools required to pinpoint the exact source of trouble. They can also quickly and affordably repair the problem so you can once again enjoy the safety and convenience of a well maintained electrical system.
Residential Electrical Inspection in Arlington
Every day, your family depends on your electrical system to stay on track in the modern world. Whether you're using kitchen appliances to cook dinner, watching TV, playing video games, doing a load of laundry or browsing the internet, you're doing so with the help of electricity. Unfortunately, an outdated or poorly functioning electrical system can make these basic needs inconvenient, and in some cases, might even put your loved ones in danger. If you live in an older home, and haven't had any recent electrical services, then it's important to call a licensed electrician who can assess the condition of your system. It's also a good idea for all homeowners to schedule an annual inspection, to ensure that the integrity and efficiency of their system is at its peak. Doing so will help you avoid any hidden risks and can also help lower utility costs.
Commercial Arlington Electrical Inspection Services
As a business owner or manager, you understand the important role your building's electrical system plays in the success of your company. From the lights in a packaging warehouse, to the registers where customers make their purchases, all forms of businesses must rely on the safety and integrity of their electricity. Unfortunately, when problems do arise, they can quickly become a huge liability. Electrocutions and electrical fires can result in extensive property damage and personal injuries. In addition, a poorly working system can consume a lot of power, raising monthly overhead expenses. Our certified electricians can help you discover vulnerabilities, so you can be sure that your electrical system remains reliable and effective long term.
Looking for an Electrical Inspector in Arlington, TX? Call Mr. Electric of Fort Worth
Have you been struggling to find an experienced electrical inspector in Arlington, Texas? Look no further, the experts at Mr. Electric of Fort Worth are ready to help you achieve a safe and efficient electrical system. We offer residential and commercial electrical inspection in Arlington, TX and surrounding DFW communities. Contact our office today to learn more about the many services available in your area, or to schedule a convenient appointment.