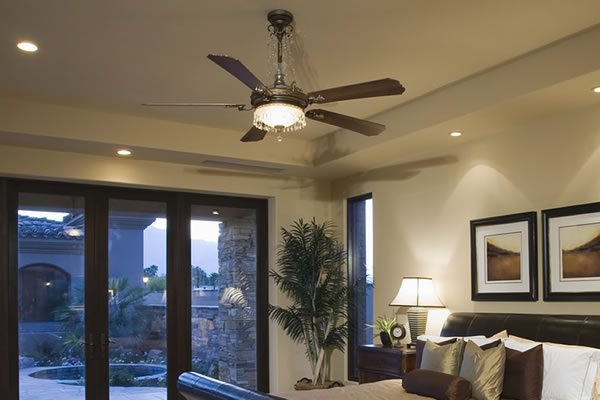 If you don't have technical knowledge about electrical wiring and reinforcement, you should call a professional electrician in Saginaw from Mr. Electric of Fort Worth.
Ceiling fans that are not adequately reinforced can crash, and there are safety precautions that should be considered before any ceiling fan can be installed. You also need to have some specific tools and methods for installing different models and makes. Some individuals may stop using their ceiling fans because they suspect it might cause hazards.
Ceiling fan replacement or ceiling fan repair cannot be done by trial and error; it is only professional electricians who understand the procedure and methods should be allowed to do the installation.
This is the right time for ceiling fan installation in Saginaw.
We are now in summer when the weather is usually worm and the installation of a ceiling fan is the right thing to do. You don't need to keep using the air conditioner because of the energy cost. Ceiling fan also keeps you cool and very comfortable in your home or office.
We have electricians with extensive training and experience. They will assemble the ceiling and install it within the shortest time possible. With our expert electricians, you don't need to worry about safety issues and regulations guiding electrical wiring and installations in Saginaw. We are trained locals who understand all the codes and electrical regulations.
Ceiling Fan Replacement in Saginaw
Affordable ceiling fan installation
It's a waste of money and time buying tools and equipment for ceiling installation when you don't have the requisite knowledge. There are technical issues involved in ceiling fan installation that the ordinary person cannot handle. The right blade placement, installation, and wiring the switches, installation of the motor, etc.
Our ceiling fan installation is very affordable and will help you save money and time. Additionally, our installation comes with maintenance guarantee. That means we will come around if there are any issues in the future.
Ceiling fan repair and maintenance
Are you having issues with your ceiling fan or you noticed that it is no longer effective? Why not call us and we will come to your location to troubleshoot and identify the problem with the installation.
Having attained brilliant success in offering excellent ceiling fan repair and maintenance in Saginaw, we will diagnose and find out if the problem is from your home electrical wiring or faulty gadgets and give you professional and satisfactory services.
As industry leaders, we will render all ceiling fan installation in Saginaw, ceiling fan replacement, or exhaust fan installation and help in giving you insights on ceiling fan maintenance. We deliver access to a staggering array of electrical services for residents of Saginaw at affordable rates provided with utmost integrity and excellence.
Discover the secrets of enjoying rightly installed ceiling fans that are of the topmost quality, yet affordable. call us and our technician will arrive in a jiffy